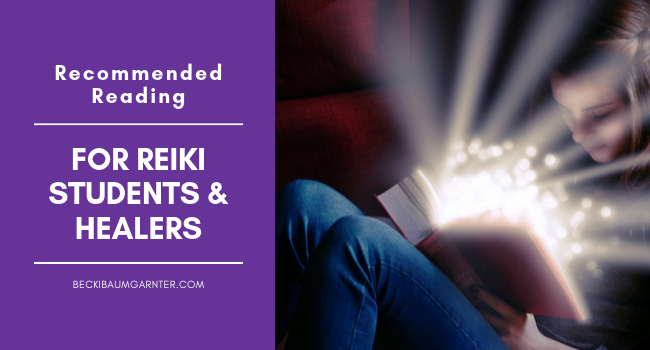 ---
Here's a list of the books that really helped me on my Reiki journey!
I hope they help you as well.
If you have any questions or if I can help you in any way, just let me know!
---
---
My Reiki Master recommended reading Essential Reiki at the end of my Reiki 1 Class. I did not read it until I was well into Reiki 2, but I wish I would have read it right away!
Essential Reiki explains in detail:
Many of the experiences the new healer goes through
What to expect during the detox
Multiple explanations of the sensations that may be felt during the healing
Information about emotional release and how to handle it
Plus, so much more!
I highly recommend reading Essential Reiki. Here's why.
As I got out and worked with the energy, I started experiencing sensations and other things I had never experienced before.
All I could do was just wonder about everything until I had time to contact my instructor.
If I had read this book beforehand, I would have known just what to expect and realized that my experiences really weren't unusual and just a part of growing with Reiki.
The book instructs you all the way from Reiki I through Reiki III, explaining the hand positions for self-healing, healing others, and all of the symbols.
Diane Stein takes you step-by-step through a healing session, even explaining what you might expect from the healee as the session is in the works.
All of the info is excellent reinforcement for items covered during personal training sessions or workshops, but are often forgotten after class is over.
Diane Stein also breaks away from Traditional Reiki training standards and explains situations such as emotional release, karma, and spirit attachment and their relationship to Reiki treatment. She also explains the relationship between the Reiki symbols and Buddhist enlightenment. All of this, and much more to guide the Reiki student or new healer on the path to Reiki Master.
From the book:
Reiki is an ancient and profoundly simple system of "laying on of hands" healing derived from Tibetan Buddhism. In the West, Reiki has been kept highly secret for many years. ESSENTIAL REIKI presents full information on all three degrees of this healing system, most of it in print for the first time.
Teaching from the perspective that Reiki healing belongs to all people, Diane Stein breaks new ground in her classic guide to this ancient practice.
While no book can replace the directly received Reiki "attunements," ESSENTIAL REIKI provides everything else that the healer, practitioner, and teacher of this system needs.
Essential Reiki: A Complete Guide to An Ancient Healing Art
---
---
Reiki master and best-selling author, Diane Stein, has been a dedicated hands-on healer since 1988. Stein believes strongly that this powerful healing art, once a closely guarded secret tradition, should be accessible and available to all.
Since she began teaching in 1990, Stein has initiated thousands of students in all three levels of Reiki healing. Through these efforts, she developed a comprehensive teaching method that encompasses the fundamentals of this ancient
system.
The ESSENTIAL REIKI TEACHING MANUAL equips the Reiki initiate with the practical tools needed for launching a Reiki healing practice, leading a Reiki workshop, and becoming a more effective Reiki practitioner. This hands-on instructional guide together with the digitally re-mastered DIANE STEIN'S ESSENTIAL REIKI WORKSHOP DVD is the next best thing to a personal teaching session with Diane Stein herself.
Essential Reiki Teaching Manual: A Companion Guide for Reiki Healers
---
---
The most authoritative book available on Reiki, Mrs. Takata's own story is told simply and powerfully by her student and friend, Helen J. Haberly, a Reiki Master whose years of experience with this healing energy qualify her as a respected Elder in this ancient tradition.
I loved reading this book! Hawayo Takata was the Japanese-American woman that brought Reiki to the United States. The books starts off telling the story of Reiki as discovered by Dr. Mikao Usui – a story which is amazing in itself. Then it goes on to tell about Churjiro Hayashi, who was the master who taught Mrs. Takata.
What was most amazing to me was the fact that Mrs. Takata was in a very serious medical state and facing extreme surgery when a little voice in her head told her to look for an alternative to this surgery, and found it in a "behind the scenes" kind of way.
She had no clue what energy healing was, or Reiki for that matter, but felt the energy coming from the practitioners hands and questioned it–something that was really against custom for women to do in Japan.
This book contains no new-age thinking, chakra balancing, or the use of Reiki symbols: It brings home the fact that all that is needed is to be attuned to Reiki and then place one's hands on the body in order to start the healing process, in oneself or another, and that chronic conditions will take longer to right themselves.
The book is an AMAZING read, and should be on the "Required Reading" list for all Reiki students! It honestly gives the reader a sense of the spirit of Reiki.
Reiki: Hawayo Takata's Story by Helen Haberly
---
---
Although I am still researching and cannot personally validate the effects of self-attunement, I found this book to be very interesting and it led to expanded thoughts on the use of traditional Reiki which brought about ideas of more, new and better ways to use Reiki in everyday life.
The self-attunement exercises were interesting and fun. The author is sincere with the goal of healing the planet and all of its inhabitants. Interesting, uplifting, and pleasurable read, this book will help you experiment with Reiki in new ways helping you to find out how the energy can best be used by you in your own personal way.
Reiki tradition dictates that you must be initiated-or attuned-by a Reiki master before properly practicing this healing art of energy flow. Now, in this revolutionary guide, Reiki Master Brett Bevell breaks with convention and extends the transformative powers of Reiki to all by presenting at-home rituals for self-attunement.
In the true healing spirit of Reiki, Bevell encourages creativity and experimentation with the practice, allowing you to personalize Reiki for everyday use. With twenty-one symbols to empower the flow of Reiki, as well as chants for attuning candles, stones, and even the water in your bath or washing machine, this is Reiki as you've never seen it before: available to everyone, for use in all aspects of life, as Reiki was always meant to be.
The Reiki Magic Guide to Self -Attunement by Brett Bevell
---
---
If you are looking for written, scientific validation of energy healing, this book is just what you've been searching for! It is full of information and data from scientific studies that have proven the effectiveness of spiritual and energy healing.
Long ago – before there were doctors, pharmacists, and hospitals – religion and medicine were one, and physical and spiritual ailments were treated alike. Most world religions practiced healing, including the early Christian Church, which followed Jesus Christ's examples of miraculous healings of the lame and the blind. But, to its cost, the modern Church has largely forgotten its healing role, says Tom Harpur in The Uncommon Touch, a powerful and persuasive investigation of spiritual healing.
Today in the West, medical science and bogus faith-healings have made the idea of spiritual healing almost laughable. Yet the ancient practice of the laying-on of hands is not only still performed, but it is also now gaining credibility, even among physicians and other
skeptics, most notably in Britain.
In The Uncommon Touch, Harpur investigates the religious roots of spiritual healing and looks at the remarkable work and ideas of modern healers. He also describes the many scientific studies that demonstrate clearly the healing and nurturing the power of this astonishing phenomenon and verify that something more than the power of suggestion is at work. These include experiments showing increased growth in yeasts that have received the laying-on of hands and documentation of the effectiveness of Therapeutic Touch, a technique used by more than 30,000 nurses in North America.
Using the spirit to help heal the body's ills is an old idea – one whose time has come again.
The Uncommon Touch: An Investigation of Spiritual Healing by Tom Harpur