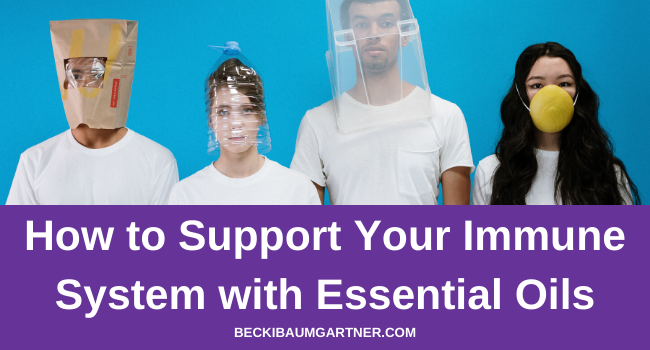 Why learn how to support your immune system with essential oils?
Well, in these crazy times, we need all the help we can get! And, essential oils will help!
We all know this: When there is a bug or something going around, it's important to wash your hands and cough into your elbow to avoid spreading germs.
Right?!
But, with the help of essential oils, you can take your immune support even one step further.
In this article, I'll be sharing my favorite doTERRA oils for keeping your immune system in tip-top shape.
You'll also learn some dos and don'ts for essential oils and also some amazing essential oil recipes.
So, let's get started!
Please note: The information below applies to doTERRA brand essential oils only. Other essential oil brands may not be safe to use in the methods recommended in this article. When ingesting essential oils, make sure the bottle is clearly labeled "safe for ingestion", and start at only 1-2 drops of essential oil.
Learn More About Essential Oil Safety Guidelines
OnGuard
doTERRA On Guard is a proprietary essential oil blend.
It provides an effective and natural alternative for immune support.
In fact, On Guard is one of doTERRA's best-selling blends.
The oils in On Guard protect against environmental and seasonal threats and are known for their positive effects on the immune system when ingested.
You can take doTERRA On Guard internally on a daily basis to maintain healthy immune function and support healthy cardiovascular function.
On Guard is also great for making a non-toxic cleaner for all the surfaces in your home.
Diffusing doTERRA On Guard helps purify the air and smells very energizing and uplifting.
Some quick and easy ways to try doTERRA On Guard include:
Add two to three drops in a veggie capsule for an immune boost.
Add to water for an effective all-purpose surface cleaner.
Soak sliced apples in water and a few drops for a healthy, immune-boosting snack.
Combine a few drops of doTERRA On Guard with Fractionated Coconut Oil for a natural hand cleanser.
Cinnamon
Cinnamon comes from a tropical, evergreen tree which grows up to 45 feet high.
The tree produces highly fragrant bark, leaves, and flowers.
Cinnamon oil is an extract from the bark of the tree.
Cinnamon essential oil supports healthy metabolic function and helps maintain a healthy immune system.
Some quick and easy ways to use doTERRA Cinnamon include:
Put two drops in an empty veggie capsule to maintain a healthy immune system.
Place one drop of Cinnamon essential oil in hot water or tea and drink slowly to soothe your irritated throat.*
Put two to three drops of Cinnamon oil in a spray bottle for a quick and effective cleaning spray.
Diffusion: Use three to four drops in the diffuser of your choice.
Internal use: Dilute one drop in four fluid ounces of liquid.
Topical use: Dilute 1 drop essential oil to 10 drops carrier oil. Avoid contact with eyes, inner ears, face, and sensitive areas.
Eucalyptus
The main chemical components of Eucalyptus radiata are eucalyptol and alpha-terpineol.
These two phytochemicals make Eucalyptus an ideal oil for promoting feelings of clear breathing and open airways.
Some quick and easy ways to use doTERRA Eucalyptus include:
Combine Eucalyptus oil with Lemon and Peppermint oil in a spray bottle and use it to wipe down surfaces in your kitchen or bathroom.
While showering, place a few drops in the hands, place over nose, and inhale deeply to invigorate and promote vitality
Peppermint
The peppermint plant is a hybrid of water mint and spearmint.
doTERRA Peppermint oil has a very high menthol content.
This high menthol content distinguishes the best quality Peppermint oil from other products.
Peppermint oil is an amazing tool for opening airways.
It also helps alleviate occasional stomach upset and promotes overall healthy respiratory function when taken internally.
Try diffusing Peppermint or applying it with a carrier oil to the chest to help open the airways and clear mucus.
Lemon
Lemon is a powerful cleansing agent.
It purifies both the air and surfaces. You can also use it as a non-toxic cleaner throughout the home.
Taken internally, Lemon provides cleansing and digestive benefits and supports healthy respiratory function.
Some quick and easy ways use doTERRA Lemon include:
Take internally to assist with seasonal respiratory discomfort.*
Add Lemon oil to a spray bottle of water to clean tables, countertops, and other surfaces.
Diffuse to create an uplifting environment.
Tea Tree Oil (Melaleuca)
Melaleuca/Tea Tree essential oil has over 90 different compounds and limitless applications.
The leaves of the Tea Tree have been used by the Aboriginal peoples of Australia for centuries.
In Australia, they would apply crushed leaves directly to the skin for a cooling effect.
Tea Tree oil is best known for its purifying properties.
When you diffuse Tea Tree essential oil, you help purify and freshen the air.
Some quick and easy ways to use Tea Tree:
Add a few drops to a spray bottle with water and use it on surfaces as a cleansing and purifying agent.
Use three to four drops in the diffuser of your choice.
Turmeric
Turmeric is a key botanical of the traditional Ayurvedic health practices of India.
Turmeric root and turmeric essential oil have been used for ages, and have also inspired modern uses of turmeric today.
Ingesting Turmeric helps your immune system and may have soothing benefits which promote a positive immune response.
Some quick and easy ways to use Turmeric:
Take internally for daily antioxidant support and to improve immune response.
Diffuse Turmeric essential oil or put a drop or two into your hand and inhale to promote feelings of positivity and to improve mood.
Rosemary
Rosemary was considered sacred in ancient Greek, Roman, Egyptian, and Hebrew cultures.
In addition to being used as a cooking herb, Rosemary has many other amazing benefits.
Internally, Rosemary supports healthy digestion and internal organ function.
Aromatherapy often utilizes Rosemary's herbaceous and energizing scent.
Internally, Rosemary helps to reduce nervous tension and occasional fatigue.
Try using doTERRA Rosemary to help boost immune support by adding one drop of oil to 4 oz of water and drinking. Herbal tea!
Breathe
doTERRA Breathe is a remarkable blend of essential oils!
Breathe contains:
Laurel Leaf
Peppermint
Eucalyptus
Melaleuca
Lemon
Cardamom
Ravintsara
Ravensara
doTERRA Breathe minimizes the effects of seasonal threats.
And, at the same time, it maintains feelings of clear airways.
You can apply doTERRA Breathe topically to your chest, back, or bottom of feet.
Or diffuse it at night to calm the senses and promote restful sleep.
Some quick and easy ways to use Breathe:
Diffuse, inhale directly from palms or rub on chest or feet when seasonal and environmental threats are high.
Use when outdoors to minimize the effects of seasonal threats.
Diffuse at bedtime for a restful environment.
Copaiba
The copaiba tree is native to tropical South America. It can grow upwards of more than 100 feet.
Copaiba essential oil comes from the resin of the copaiba tree.
Copaiba essential oil has been used in traditional health practices by the natives of north and northeastern Brazil since the 16th century.
When used internally, Copaiba essential oil supports the health of the following systems:
Cardiovascular
Immune
Digestive
Nervous systems
Copaiba also helps support a healthy inflammatory response.
Copaiba oil contains the highest levels of β-caryophyllene (BCP) among currently known essential oils.
When Copaiba is ingested, the BCP binds to the receptors to aid healthy immune and inflammatory responses.
In addition, CBD influences multiple signaling pathways. Doing so promotes a healthy digestive, liver, heart, kidney, and brain function.
By influencing your body's most important organs, BCP supports overall general well-being.
Some quick and easy ways to use doTERRA Copaiba*:
Diffuse three drops each of Copaiba and Breathe to support healthy respiratory function.
Add one to two drops to water, juice, or tea to help support the health of the cardiovascular, immune, digestive, nervous, and respiratory system.
Oregano
Oregano oil is one of the most potent and powerful essential oils and has been used for centuries in traditional practices.
The primary chemical components of Oregano is carvacrol. Carvacrol is a phenol that possesses antioxidant properties you ingest it.
Due to its high phenol content, caution should be taken when inhaling or diffusing Oregano essential oil. You really only need one to two drops.
Ingest one drop daily to help maintain healthy immune function.
You can ingest Oregano more frequently as needed to further support the immune system.

Some quick and easy ways to use doTERRA Oregano:
Take one drop of Oregano oil in a veggie cap or 4 fl. oz of liquid daily to maintain healthy immune function.*
Add one to two drops to a veggie capsule to support healthy respiratory function.*
Put 10 drops in a 16-ounce spray bottle with water for a surface cleaner.
Some Different Ways to Use Essential Oils for Immune Support
There are many different ways to use essential oils to support your immune system.
Here are just a few ideas to get you started.
Have you ever tried steaming when you have a cold?
Basically, you use a towel to create a personal-sized sauna!
When you start feeling congested, just start boiling some water and grab a bottle of one of the following oils:
Peppermint
Eucalyptus
Breathe
Oregano
Tea Tree
Grab a large towel, then add the water to your sink or a large stockpot, along with one drop of oil.
Lean over the bowl so that the steam lifts into your face and drape the towel around your head, trapping steam.
Start off slow with the oils, you can always add more. The scent can be more overpowering than you might think!
Believe it or not, doTERRA essential oils are incredibly potent.
When you are first introduced to essential oils, it seems like the bottle size is somewhat very tiny compared to the cost.
However, over time you will realize that even one drop of essential oil goes a very long way.
Ingesting Essential Oils
When you ingest essential oils, one to two drops is all you need at a time.
You can take certain essential oils internally by putting the drop in a veggie capsule, or by adding it to a glass of water.
Before using an oil internally, check the label first to make sure the oil is safe for ingestion.
If the oil includes supplement facts, it can be used internally. If not, the label will simply say, "For aromatic or topical use."
The single oils that should never be ingested are:
Arborvitae
Blue Tansy
Cedarwood
Cypress
Douglas Fir
Eucalyptus
Spikenard
Wintergreen
Diffusing Essential Oils
Even when diffusing an oil, a few drops are all you need for amazing benefits.
When using and diffusing essential oils, be aware that oil's potency may be too strong for some groups of people.
Children are more sensitive to oils than adults.
When using the oils with kids, always dilute the oil and start by only applying oils to their feet.
Diffusing oils is the best way to use oils with kids under two years old.

Make sure that you're always around when your children use an oil, and keep all oils out of kid's reach.
Some essential oils can interact with prescription medications and supplements.
So, it is always a good idea to talk to your doctor before using essential oils.
Women who are pregnant are sometimes advised to avoid using certain essential oils because of the possibility of active ingredients crossing the placenta.
Diffusing for Healthy Air
When there is an excess of germs in the air, one of the best things you can do is diffuse essential oils to help cleanse the air!
A diffuser works best in small areas, like offices, bathrooms, individual rooms, or small apartments.
When diffusing, close the door to the room you're diffusing for maximum effect. However, if you have a cat, leave the door open so your cat can leave if the scent gets too strong.
DIY Natural Healthy Cleaner
There is no need to pull out your rubber gloves and surgical masks when you clean your home!
You can quickly and easily concoct inexpensive non-toxic cleaners from ingredients you probably already have.
Using essential oils to make homemade cleaning spray is not only safe for the environment but is safe for your family as well.
This spray is perfect for cleaning hard surfaces in the kitchen and bathroom
Ingredients:
¼ cup white vinegar
1 ¾ cups water
30 drops doTERRA essential oils
Recommended essential oil combinations (choose one):
15 drops each of Lavender and Lemon
10 drops each of Eucalyptus, Peppermint, and Wild Orange
30 drops doTERRA On Guard®
15 drops each of Grapefruit and doTERRA On Guard
Place all ingredients to a 16-ounce spray bottle and shake thoroughly. Simply spritz on surfaces and wipe clean!
On Guard Immune Support Pancake Recipe
Start your day off supporting your immune system with this yummy pancake recipe!
Ingredients:
2 ripe bananas
1 cup oatmeal
1 cup flour
¼ cup brown sugar
2 teaspoons baking powder
½ teaspoon salt
¾ cup plain greek yogurt
¾ cup milk
2 eggs
1 teaspoon vanilla
1 drop Cinnamon Bark oil
½ cup chopped walnuts, optional
¼ cup canola oil
2–4 drops of doTERRA On Guard Protective Blend (to taste)
How to make:
Mash bananas in a medium mixing bowl; mix in yogurt, eggs, milk, canola oil, vanilla, and doTERRA On Guard.
In a large mixing bowl add oatmeal, flour, brown sugar, baking powder, salt, cinnamon, and walnuts; mix well.
Add banana mixture to dry ingredients and mix. Do not over mix.
Spray griddle with non-stick spray, use a small ladle to scoop out the mixture to griddle. Cook on medium to high heat. Cook as you would regular pancakes, waiting for bubbles to appear then flip.
Turmeric Coconut Milk Tea Recipe
Curcumin is widely used in India for a number of health challenges.
However, it is difficult for the body to absorb curcumin.
Subsequently, there is a benefit to using the oil instead of the spice.
The turmerones in the oil can improve how well your body absorbs the turmeric.
The most important part of the coconut milk tea is the Turmeric essential oil, which gives it a surprisingly subtle herbal flavor.
There are many several tested reasons for taking Turmeric oil internally.
And, this tea offers a delicious and healthy way to do so.
Ingredients:
1 cup coconut milk
1 cup water
1 tablespoon honey
1 tablespoon butter (or ghee)
1–2 drops Turmeric oil
Turmeric spice for garnish
How to make:
Heat coconut milk and water in a saucepan on low for three to four minutes.
Add butter, honey, and Turmeric essential oil and stir until butter melts and ingredients combine.
Pour into mugs and add a pinch of turmeric powder as an optional garnish.
Serve hot.
Amazing On Guard Immune Support Products
The ultimate doTERRA immune-boosting oil, On Guard, is so popular that there's a whole product line dedicated to it!
In addition to the pure oil, doTERRA On Guard is available in the following forms:
Beadlets
Hand Wash
Laundry Detergent
Foaming Dental Floss
They are all amazing!
Please note: The information above applies to doTERRA brand essential oils only. Other essential oil brands may not be safe to use in the methods recommended in this article. When ingesting essential oils, make sure the bottle is clearly labeled "safe for ingestion", and start at only 1-2 drops of essential oil.
Learn More About Essential Oil Safety Guidelines
References:
doTERRA website: https://www.doterra.com/US/en
Essential Oils for the Flu: https://www.medicalnewstoday.com/articles/321401#how-to-use
Diffusing a room: https://www.mindbodygreen.com/articles/essential-oils-that-clear-the-air
All-purpose cleaning spray: https://www.doterra.com/US/en/blog/diy-all-purpose-spray
Immune boosting pancakes: https://www.doterra.com/US/en/blog/recipes-doterra-on-guard-pancakes
On Guard products: https://www.doterra.com/US/en/search/fullsearch?text=on%20guard&contentType=PRODUCT&saveSearch=true