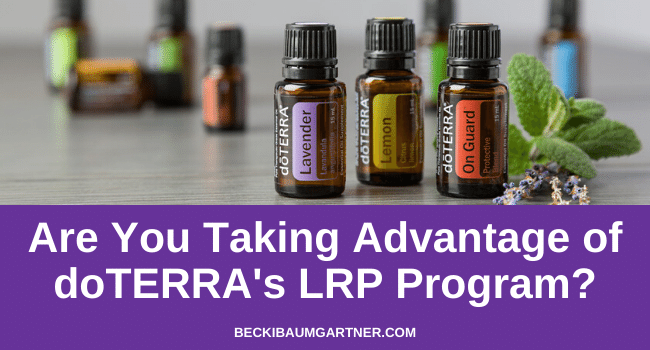 doTERRA's LRP Program is the easiest way to get the best deal on doTERRA essential oils.
If you know me, you know I love essential oils, and especially doTERRA essential oils.
I am always here to help!
Accordingly, I wanted to make sure that you understand how to save up to 55% on your oils by taking advantage of the doTERRA LRP Program.
How the doTERRA LRP Program Works
doTERRA's Loyalty Rewards Program (LRP) is amazing!
And, it will help you start earning points and getting FREE (yes, FREE) oils each month!
The LRP sounded too good to be true when I first heard about it.
I was like:
"Wait just a minute. Are you telling me that I can earn points on the products I order every month anyway? And the points are equal to dōTERRA® dollars? Then, I can use these points to get free products? And, on top of all that, I can get all my shipping costs back as reward points too?"
The answer was an amazing, "YES!"
Here is how it works.
Set up a minimum monthly Loyalty Rewards order of 50 PV to earn product credits and move towards increasing your percentage back in points.
In addition, you only need 1PV each month to maintain your accrued points and current standing. You can change your order each month. And, order only what you need. I'm here if you need help.
Learn How to Place an LRP Order
How to Save Up to 55% on doTERRA Essential Oils
As long as you maintain the monthly volume I just explained, you will begin earning points.
1-3 months – 10%
4-6 months – 15%
7-9 months – 20%
10-12 months – 25%
13+ months – 30%
And, remember, as a doTERRA wholesale customer, you are already getting 25% off everything your order.
Then, when you add up the math your 25% discount plus your points back, you are getting an amazing deal on top quality essential oils.
The points accumulate quickly. And, you will earn you free, life-transforming products!
Learn How to Place an LRP Order
I am more than happy to explain how to get started with doTERRA and set up on the Loyalty Rewards Program (LRP). Just message me if you want to chat for a few minutes.
I really hope you take advantage of doTERRA's LRP opportunity. In addition to paying wholesale on our products (25% off everything), you will also be earning points at the same time!