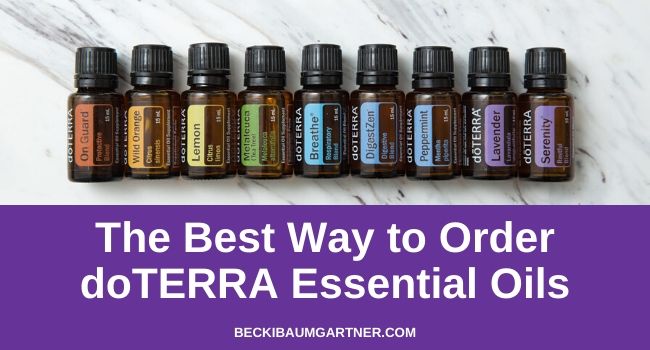 People ask me all the time about the best way to order doTERRA Essential Oils.
They want to know if they can save money if they order a certain amount.
Or, will they save more if they place smaller orders on a consistent basis.
Sometimes, people are concerned that they must order a certain amount every single month or order the same thing every single month. You don't have to!
Here's the #1 best way to order doTERRA essential oils.
doTERRA's Loyalty Rewards Program
doTERRA offers an amazing opportunity called the Loyalty Rewards Program. (We call it "LRP").
LRP is how doTERRA shows their appreciation for YOU!
How the Loyalty Rewards Program Works
If you set up an automatic monthly order, you receive a number of benefits, including earning other bonuses in the compensation plan.
In addition, you can also customize each order and the date it processes through your Virtual Office via the Shop tab.
Here is a short tutorial video:
Key Benefits of doTERRA's Loyalty Rewards Program
Below are the top reasons why you should sign up for LRP.
You Earn a Percent Back
Signing up on the LRP program means you start off getting 10% back in product credits on your LRP orders.
You use these product credits to get products for free on a future order.
As long as you have a monthly LRP order of at least 50 PV, you will continue to earn credits.
And, the longer you participate in the program, the larger the percentage of credits you will get back on your purchases!
You start off getting 10% back, until you reach 30% at 13 months.
Here's how the percentage works:
1-3 months: 10%
4-6 months: 15%
7-9 months: 20%
10-12 months: 25%
13+ months: 30%
Isn't that amazing? I've been getting 30% back on every single order I place for years now.
It's so fun to pick out freebies and try all of the new products for free.
Sometimes, I save up the points to use as gifts for friends and family.
There are so many different things you can do with it!
You Must Be on LRP to Earn Power of 3 and Fast Start Bonuses
Ok, this benefit is for those interested in the business aspect of doTERRA.
If you, like me, are the entrepreneurial type, this is for you.
In order to qualify to earn the Power of 3 Bonus and Fast Start, you must have at least a 100PV order in place each month. (This is easy to do, especially if you exchange your current daily vitamins for doTERRA's.)
If you are active in the business bh sharing, enrolling, and building these bonuses only help you continue to build your business.
Plus, having the automatic LRP order set up means that you are also getting back some of what you have put in in free products.
You Get the Free "Product of the Month"
If you set your monthly LRP to at least 125 PV, you automatically become a member of "The Product of the Month Club", and receive the free monthly product with your LRP order.
Tip: Remember that your LRP automatic order must process before the 15th of each month for you to receive the Product of the Month.
Tip: If you want make sure you participate in our monthly promotions announced on the first of each month, be sure to have your LRP run on the second day of the month.
If you have any questions about getting started with LRP, please let me know!
This is by far the #1 BEST WAY to order doTERRA Essential Oils!
Order via the link below, and I'll help you every step of the way!