Many people are not aware that natural burial still exists. Many people do not even know what a natural burial is.
Actually, I was not at all aware…
Until my friend, Joyce, asked me to go on an excursion with her.
She wanted to visit Larkspur Conservation's Taylor Hollow, a natural burial spot a little north of Nashville. Of course, I said yes!
What is a Natural Burial?
A "green" or "natural" burial as a way of caring for the dead with minimal environmental impact.
It also aids in the conservation of natural resources, reduction of carbon emissions, protection of worker health, and the restoration and/or preservation of habitat.
Visiting a Natural Burial Site
Joyce and I visited Taylor Hollow at Larkspur Conservation, Tennessee's first conservation burial ground.
Larkspur is located in rural Tennessee, north of Nashville.
As you enter, you can tell you've reached a natural sanctuary.
When we visited, Taylor Hollow was quiet, serene and empty.
In fact, we didn't see any other people the entire time we hiked.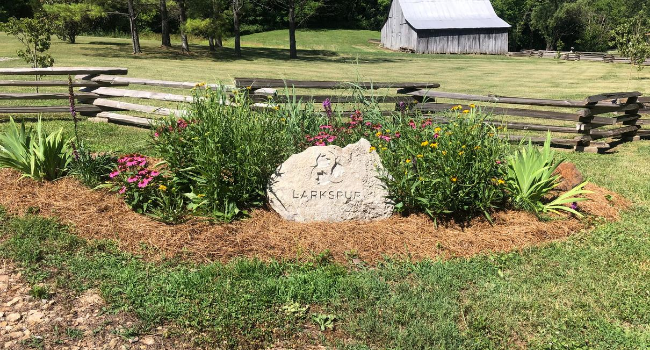 Larkspur's Philosophy
Larkspur Conservation is a 501(c)3 nonprofit organization dedicated to the stewardship of our natural environment through earth-friendly natural burial practices.
Larkspur's nature preserves are protected by a conservation overlay, which allows for natural burial to occur on a portion of the land while fostering and restoring the local ecosystem.
Benefits of a Natural Burial
The historic practice of natural burial eliminates the use of embalming chemicals, plastics, metals, and concrete. With each burial, an investment is made to our natural home, creating a living memorial to be enjoyed by everyone, forever.
"Wait, you mean I can actually be buried in the woods when I die??"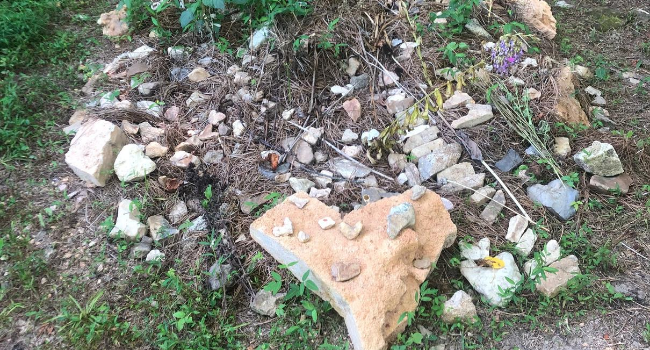 Of course, I was very intrigued by the concept.
Think about it for a minute, it's honestly a win/win situation. For me it is, anyhow.
Rather than paying for a funeral home, and a plot, etc. when I die, I can be buried naturally, in the woods.
And, the money spent on my burial will help preserve a natural area.
My death could actually give back to Mother Earth just a little bit of what I've taken from it all these years.
How could I say no to that?
The other thing that impressed me was what would be left behind for friends and family members.
Rather than visiting a depressing graveyard or mausoleum, loved ones could come and hike, meander through a serene meadow, or sit at a peaceful pond to pay their respects.
A perfect place for loved ones to get some forest therapy, relax, breathe, and find peace with themselves and their circumstances.
Hiking at Larkspur's Taylor Hollow
Joyce and I hiked Taylor Hollow Larkspur.
The trail is hiking only. No bikes or motor vehicles allowed.
The trailhead displays maps and some information. When we were there, Larkspur had some bug spray available in case you forgot yours.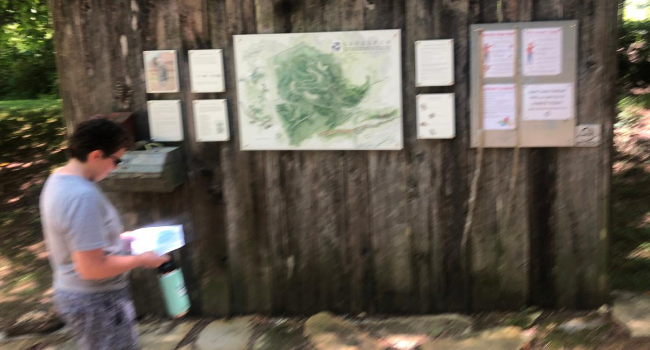 The trail itself is wide and well kept. Meandering through forest and meadow, it beautiful, peaceful hike.
As you walk the trail, you'll see various educational signs.
The first sign we came upon read:
Carr Cemetery

Behind this sign, in the thicket, lie the remains of unknown persons.

Early American cemeteries, such as this one, dot the Tennessee countryside.

Larkspur Conservation restores native landscapes where the revival of these simple and historical burial practices create hallowed ground.

Larkspur Conservation
I must admit, it was very surreal hiking along and seeing the natural burial sites.
Joyce mentioned she could "feel" it was "hallowed ground".
I agree. I felt it as well.
The energy of the area and the space it held felt very different than anywhere else I had ever hiked.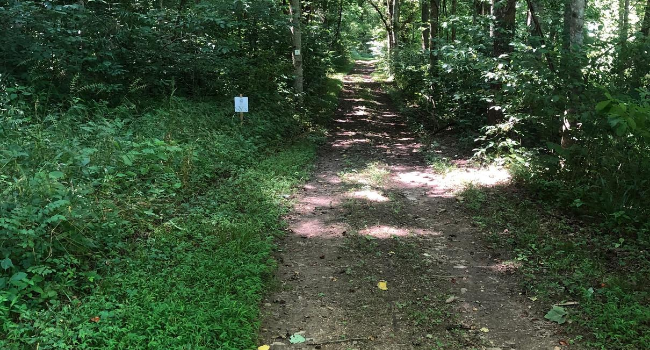 As for being buried, you have the choice of being buried in the woods or in a meadow.
As we hiked down the trail and through the meadow, we saw several graves.
Some old, some new.
Most had natural adornments.
And, many had natural wildflowers or trees planted on or around them.
There is spot in the meadow with picnic tables, for a family gathering.
There is also a pond on the property, where loved ones can sit and contemplate or meditate.
We stopped at the pond and sat for just a while to process this foreign yet beautiful burial concept.
As the bullfrogs chirp and the dragonflies flit around, you can't help but contemplate the Circle of Life.
I can't imagine a better place to rest in peace.
And, I plan to be buried there when I die.